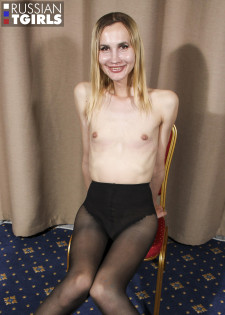 Another hot set from this popular Russian trans girl, who came straight from her office job to the shoot, and we asked her to leave her work clothes on. Stripping to black skirt, panties and bra, wearing the black sheer pantyhose that she loves - the femininity of the material and the usefulness of keeping her cock tight against her, and not showing. She soon removes everything, Kristina's big cock is hard and angry looking, she must appease it and soon does.
9th Jun 2023
17:22 HD Video
& 111 Photos
Red dress with matching fingernails? You just know this is a very dangerous girl. Kristina debuted last year and was a big smash on this site, so she's returning for 2023 in more super hot sets. She opens that red dress to show her pantyhose, and black panties and bra, teasing what could be underneath and ready to offer up her smooth pert ass, her long legs, and her budding breasts with those big pink nipples. With nobody around to appease her horniness, she used a thick dildo, deep into her ass, loving every minute of it, as she fucks herself. You are watching - you are hard - you are captivated ... a very dangerous girl.
26th May 2023
17:08 HD Video
& 106 Photos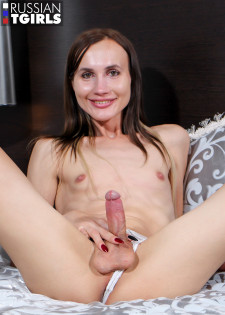 She's been horny for the whole shoot. Kristina is someone who enjoys being photographed and showing her hot body, sweet hole, hard cock and beautiful face to the world, so much, that she just gets super turned on and wants to play with herself during the shoot. Finally, she's able to release as she slowly strokes than cock, building the rhythm until she gets the release she was looking for. A nice sticky end to this shoot.
11th Nov 2022
17:24 HD Video
& 108 Photos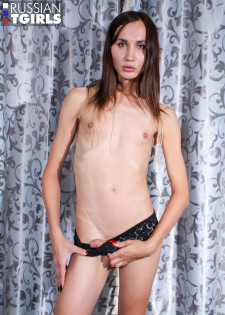 We debuted Kristina earlier this year and her sets were a huge hit. She's back with another hot solo for us, wearing a sexy black leather mini-skirt which let's us see straight through to her smooth balls and genitals, cradled by her nylons. Kristina has a great look and style (check out those fingernails) and loves the camera, and the camera loves her. Smooth slim body with perky nipples and a hard cock. A beautiful face and lots of sex appeal. Enjoy the return of Kristina.
28th Oct 2022
17:01 HD Video
& 124 Photos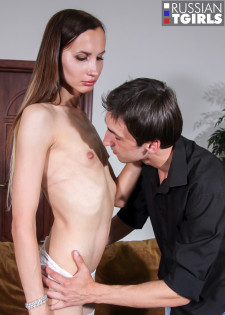 Kristina returns for a cracking hardcore scene. When she contacted our man in Moscow, and said her boyfriend wanted to film with her, he jumped at the chance to capture this authentic and hot hardcore scene. Long, lean Kristine has the perfect body for sex - she loves to suck cock, and even more, loves slow, deep, and sensual anal. Aiden is happy to make that happen and offers up his hard cock for her to really enjoy, before sliding into her tight, willing, and desperate asshole, bringing her the pleasure she needs. Great facial to end this.
22nd Sep 2022
23:38 HD Video
& 176 Photos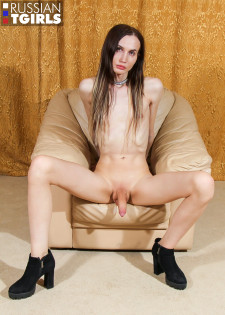 If you're bored and lonely Kristina is here is willing to be your company. She'll give you a great view of her all-natural body that's very hot and she'll also give you a cum treat that you surely can't resist! Enjoy!
15th Apr 2022
15:53 HD Video
& 115 Photos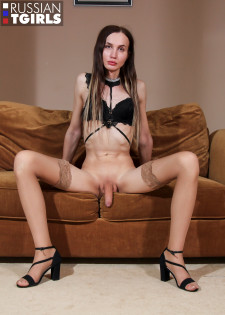 Kristina is here! Make way for this Teodor Grekov discovery as she takes Russian TGirls stage with a stunning solo debut showing off her delicious assets and teases you :)
1st Apr 2022
14:40 HD Video
& 108 Photos