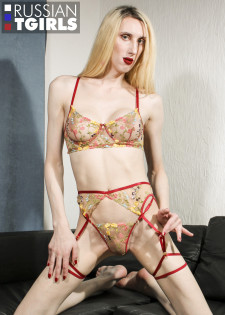 I think she's a very well put-together woman, who knows what to wear, and how to do her makeup and hair to really present herself well. And on top fo that, she's got sex appeal and aplomb in the shoots and that's why I love to see her here. She's very slim, with long, long legs and a flat stomach but with some cracking boobs with super big, pink, and very suckable nipples which contrast with that snow-white skin, her long blonde hair set off with those crimson lips reminds me of a 50's screen siren - or a femme fatale. Nice sized cock, had a great look and was just very very sexy.
24th Nov 2023
15:51 HD Video
& 110 Photos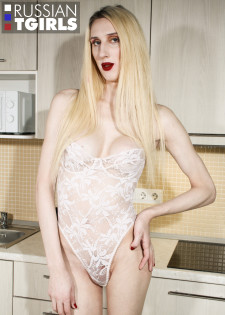 Everyone needs to get one of these for their kitchen! The adorable, and extremely sexy Diana Gordan is back for her third shoot and never looked better. When you get your own Diana Gordan for your kitchen, you'll find yourself spending much more time in there, while you weigh her sweet breasts and knead that fine ass, while tasting that sweet mouth and getting some coloring from those dark red, and very sexy lips. If you need something mixing, she's got it handled with that big, hard uncut cock - and when you are ready to put your meat in the oven, it's already warmed up and ready to have it inserted and left there for as long as you want. When you are ready to ice the cake, squeeze the bag, pull the tube, and get that sweet cream out.
10th Nov 2023
15:12 HD Video
& 115 Photos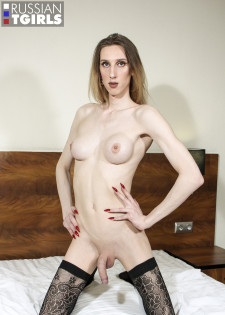 Diana is home alone and horny, she's back from work and has been waiting all day to unleash her tucked cock from between her legs, and have a play. Her breasts no longer restrained, fall from her orange dress, and her penis hangs out - gradually stiffening as Diana plays while fantasizing about who could come over and fuck her silly. She slips out from the dress, leaving her stockings on and rubbing her hands over her toned body, and plays with her cock, which is big, hard, and straining. She continues to fantasize about what she loves to do, as she masturbates more and releases a string of pent-up cum.
10th Mar 2023
16:16 HD Video
& 118 Photos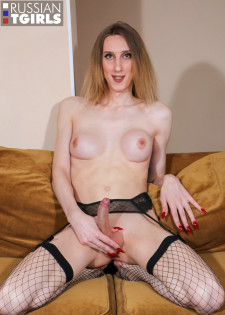 It's hard to believe that it's been over 4 years since we last saw Diana on this site, and we're excited to show her return. This long, slim and toned girl has an awesome supermodel look, with her high cheekbones, long legs, great breasts and overall just a load of sex appeal coming from her. Diana strips down, showing off everything she has to offer, her cock is big and it's hard and as she uses a dildo on herself, grows even further. A hot and sexy shoot of this stunning Russian trans girl.
24th Feb 2023
17:00 HD Video
& 107 Photos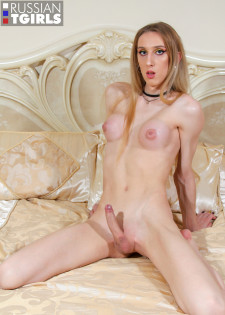 What's better than Diana Gordan naked on the bed? She's naked on the bed showing off her big tits, nice ass and shaved uncut cock. This doll is wild..loves being naked and she has a great time shooting a load of cum too. Sweet!
27th Dec 2018
17:08 HD Video
& 92 Photos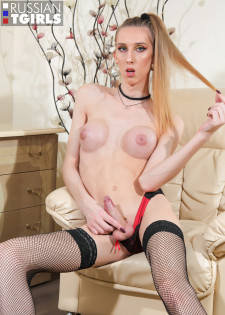 Today's featured update is no other than the pretty Diana Gordan a new gem found by Teodor Grekov! This stunning blonde is seen posing in a very sexy lingerie and not before long, she stripped it off and flaunts and plays her perfectly round tits, sweet cock and tight ass all for the world to enjoy!
13th Dec 2018
16:15 HD Video
& 92 Photos