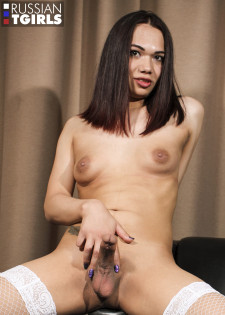 She's horny and on the prowl for some cock. She doesn't care where she finds it as long as it's hard, functional and ready to go. Dema's red lipsticked lips are ready to slide over a shaft, and lick around the head before going down and swallowing as much of a cock as she can, coming up for breath and back down for more ... much more. Her sweet little asshole, smooth and puckered is pulsating to feel a lubricated cock slowly slide into her, pausing as she opens to accept it further and then getting a slow steady rhymatic fuck that escalates in speed and intensity until she reaches orgasm.
12th May 2023
17:41 HD Video
& 121 Photos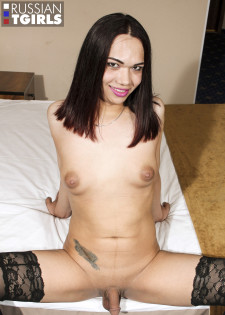 It's lovely to see the return of this pretty Russian girl who debuted over a year ago. Cute natural looks, with some of the best boobs I've seen in a while, with awesome swollen and enlarged areolas which look oh so suckable. A slim, body, smooth everywhere and a nice sized cock which gets erect and is framed perfectly with those black stay up stockings. This cute 28-year-old is quite the sexy little thing.
28th Apr 2023
16:40 HD Video
& 120 Photos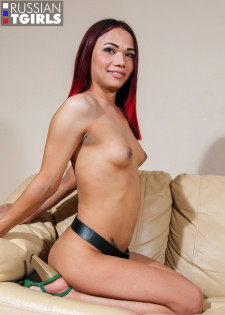 The sweet Dema will charm you with another round of pure pleasure today! Her sexy assets underneath will turn you on and the way she jerks off her cock and cums will drive you crazy!
7th Jan 2022
17:15 HD Video
& 108 Photos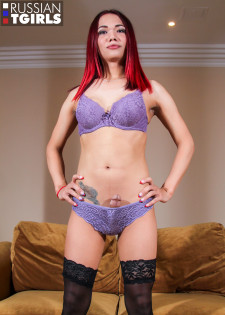 Russian TGirls HQ welcomes Dema! This lovely lady may not be new to you as she appeared in one of out sister sites before and made an amazing performance there. Today she'll give you taste her naughty side as she gets playful with her body in front of Teodor's lenses!
24th Dec 2021
17:35 HD Video
& 104 Photos